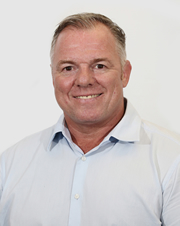 JOHN ALLAN
CHIEF EXECUTIVE OFFICER
John has had a long and prosperous rugby career, between 1989 and 1992, John played 12 tests and 24 games for Scotland, as their hooker. Between 1993 and 1996, he represented South Africa in 13 tests and 26 games, also as the hooker.
In 2004, he was appointed the CEO of the South African Rugby Legends Association (SARLA). In 2012 John decided to focus more on sports development in all sports, particularly in schools and he left SARLA to start up iSpire Holdings which develops coaches in the sports arena. To sustain his passion for all sport, John embarked on a mission to be a social entrepreneur through GameOn!, whereby funds were to be raised for schools and then sports development through the sale of R100 vouchers.
GameOn! Has now evolved into a dynamic loyalty program whereby loyalty partners give rewards via cashbacks to cardholders, schools, learners and sports codes, and this is the cash back which is used for education and sports development.
John studied Computer Programming and has a Degree in IT.