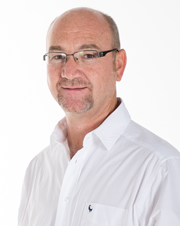 DEON BOTHA
CHIEF EXECUTIVE OFFICER
Deon has been operating in the ICT industry for more than 25 years. In 1994 he was part of the first 200 seat call centre which was established for the Independent Electoral Commission (IEC) responsible for voter information during the country's first democratic elections. He has also been actively involved with television and media; Deon started Soweto TV, a popular channel on DSTV.
Solid IT and Call Centre experience has given him the unique ability to apply technology in all its forms to business processes. Some of his business process knowledge includes finance, facilities, project management, budgeting, marketing, vendor management and various operational processes.
His well-rounded business skills coupled with sales, training and development turns him into a keen solution thinker.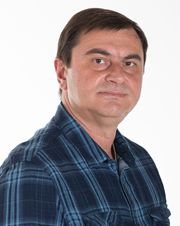 GETOV HRISTOV
ENTERPRISE ARCHITECT
Since relocating to South Africa, Getov has worked for various local corporates and IT organisations, including Ooba, Eurovision and MagmaTec. Getov heads up IT development, infrastructure and security at Amazing Vouchers.
Getov holds a Bachelor of Mathematics from Saint-Petersburg State University, Russia.