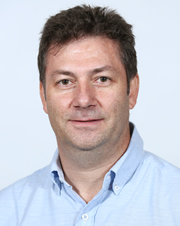 WAYNE VENTER
CHIEF EXECUTIVE OFFICER
Wayne is the founder of Ionizr Pty Ltd, a location based, real-time mobile engagement business that helps companies improve their digital mobile engagement strategy and experience with their customers as well as provide valuable insights and analytics into the success of their marketing campaigns.
Before devoting his time to Ionizr, he worked as a senior technical professional for various global technology brands as Avaya, Ruckus Wireless, Nortel, Bay Networks and FORE Systems. During his time at these companies, Wayne was intimately involved in developing and designing some of the most complex, voice, data, WiFi and cloud solutions and networks for large multinational enterprises as well as global service providers.
After a brief tenure in the United Arab Emirates working for EAD/Astrium as Engineering Manager for the Yahsat project, Wayne returned to South Africa to complete his Master's Degree with focus on CEBP Communication Enabled Business Processes, system design, communication systems, security engineering, computer forensics and e-commerce.
Wayne's 20+ years of experience in the service provider, defense, satellite communications sector and his determination to make a difference in this space, has helped shape the vision he has for Ionizr, his team and ultimately Ionizr's customers.
CHERYL KING
HEAD OF BUSINESS AND SALES ENGAGEMENT
Cheryl's career in ICT began in 1995 at Panasonic Business Systems, where she was instrumental in developing and implementing the go-to-market strategy for Panasonic PBX systems within South Africa. Her desire to play in the global arena of Telecommunications led her to join Lucent Telecommunications, now Avaya, and a global provider of business collaboration and communication solutions. During her tenure at Avaya, she successfully developed the local partner community as well as establish a global footprint for partners such as Dimension Data. During her 12 year career at Avaya, she relocated to the United Arab Emirates to manage local business partners as well as manage the IBM Global Alliance Channel Team. Post her return from Dubai, she expanded her interest in the Unified Communication space as Channel Director at Kathea, developing Channel Partner Programs for Polycom Video Conferencing solutions. In 2013, she was approached to head up the sales force for Atio Corporation a local System Integration of Contact Centre Solutions and Managed Services, negotiating complex Contact Centre solutions and service deals into strategic customers such as Neotel, Clientele Life, Discovery, Outsurance and Liberty Life. Her continual passion for customer service and customer experience finally led her to join to Smoke CCS a premier provider of CEM and Voice of Customer software and Services. As Head of Sales, she was intimately involved in working closely with strategic customers such as Multichoice, Telesure, Nedbank and Dimension Data on their Voice of the Customer strategy.
Today, as Executive Head of Business Development for Ionizr, she is focusing on establishing the overall go-to-market strategy and business development